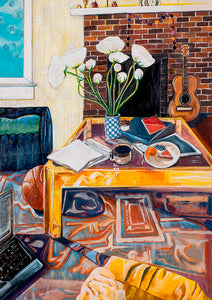 This Giclee print matted in three sizes, 5x7, 8x10, 11x14. Each print created by Alaskan Artist Katie Sevigny, is numbered and matted to fit standard size frames.
PAPER PRINTS IN FOLLOWING SIZES AFTER MATTING IS ADDED
 5X7 = 8X10,
8X10=11X14,
11X14=16X20

Please call studio (907-258-2787) to inquire about other sizes.