WELCOME TO SEVIGNY STUDIO!
ANCHORAGE, AK | PORTLAND, OR
VOTED ANCHORAGE'S BEST GALLERY & GIFT SHOP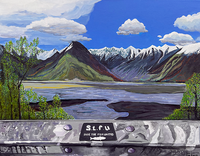 "FOR ZACH" BY: BEN COULTER
"FOR ZACH" A PRINT BY BEN COULTER, GUIDED BY: KATIE SEVIGNY. BEN CHANNELED HIS EMOTIONS AND FOCUSED ON THIS MOMENT. A MOMENT THAT HE AND HIS FREIND'S SHARED OVERLOOKING THE HOPE MOUNTAIN RANGE.
THE PROCEEDS FOR THIS PRINT GO TO THE ZACHARY PORTER FUND ESTABLISHED SHORTLY AFTER HIS TRAGIC PASSING. PLEASE CLICK ON FOR ZACH FOR A BRIEF ZACHARY PORTER FUND MISSION STATEMENT.
@ CHECKOUT PLEASE SELECT ZACH PORTER SHIPPING FOR FREE SHIPPING. THANK YOU
FOR ZACH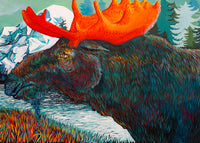 PROFILE PIC
"Profile Pic" is the newest original to make it's way to our Anchorage studio. This beauty sold within12 hours of being hung on our walls - what a great way to kick off 2023! Our favorite wandering moose is setting the tone for all of the adventures this year is bound to bring.
FIRST FRIDAYS AT SEVIGNY STUDIO
WE'RE BAAACK
We've missed you all and we're back to the First Friday scene with a bang (safely, of course)! Featuring local artists, musicians, along with the friendly faces you've come to know and love. Come for the art, stay for the beverages and delectables!